I first met Kristen Welch in 2011 when we roomed together at a retreat in South Carolina. (I still find it crazy that these are the days of meeting people on the internet before meeting them in real life.)

I liked Kristen right off the bat–she was warm, welcoming, and hilarious. As a bonus, she also spelled her name the right way.😉 Kristen is not only a gifted author and blogger, she's founder of one of my favorite nonprofit organizations: Mercy House Global. 

Kristen's latest book, Made to Move Mountains, is for the person staring at a disaster, disease, divorce, devastation, despair. It's for the person dreaming of scaling, soaring, and seeing the impossible happen. In short, it's for every one of us. I couldn't be happier to welcome Kristen to my neck of the Colorado woods today! Read her post below and be encouraged as you face the mountains in your own life. Then pick up her fantastic book–a true gift to each one of us. 
Some days we wake to an insurmountable mountain in front of us.
Obstacles that weren't there the day before–and then suddenly they are looming large in front of us: a diagnosis, a disaster, discouraging news, depression and despair.
I've dug my toe into a few of these mountains this year and I've spent a lot time telling God about the mountains in front of me. Maybe you have too?
And this is what I've learned: God moves some mountains miraculously. You stare down the impossible and it stares right back at you. But then God casts it into the sea and makes a way where there wasn't. This is my favorite.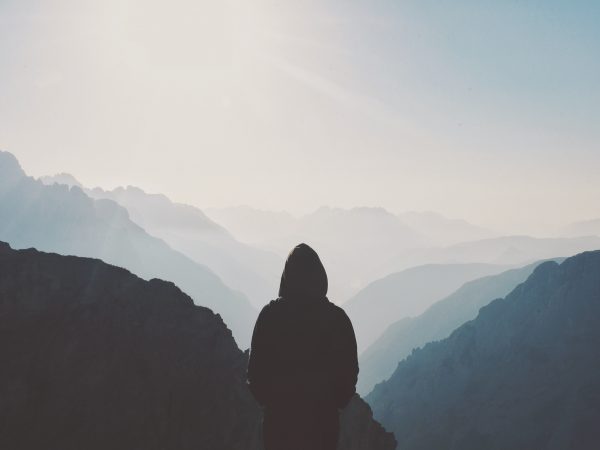 But more often than not, there are mountains in front of us–blocking our path, obscuring our view, wearing us out, that will not be moved. Because they were made to climb.
I'm not much of a mountain-climber. A few months ago, my family drove and drove and drove a little further until we got to the mountains my husband climbed as a boy. We were looking for a certain spot that he and his father visited nearly 40 years ago where they built a small rock memorial. We narrowed down the area with a fuzzy memory and then we climbed.
And we climbed some more–huffing and puffing and panting our way to the top. We found a likely spot and built our own pile of rocks so that our kids could bring their children to it maybe 40 years from now. Because building memories and remembering them is half the journey.
As we stood on the top of the mountain in the crisp air, it was then I could see how far we had climbed. Some days we need to stop and look around so we can remember praying for what we have now. It's too easy to forget that much of what we enjoy today is what we asked God for yesterday. And some days we need to look behind us to see how many mountains we've already scaled.
Because it's a lot easier to see the top of one mountain from another. When we reflect on what God has already done in our lives, our hearts, our homes and we stop and praise Him for it –it changes everything.
The same God who led you to the foot of the mountain is the same God who will lead you over it.
Instead of telling God about the big mountain in front of us, let's tell the mountains about our big God.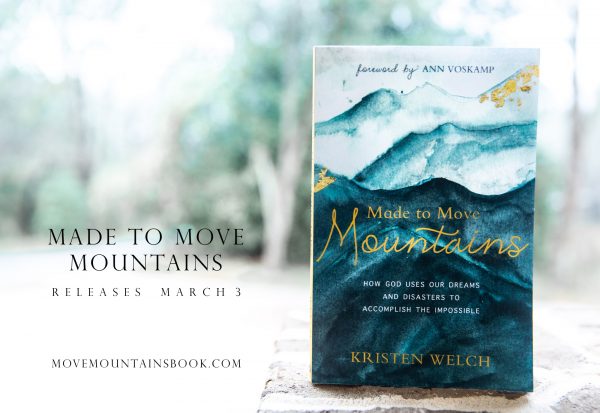 Kristen Welch, blogger at We are THAT family, is a bestselling author and founder of Mercy House Global. Made to Move Mountains, releasing March 3, 2020
Made to Move Mountains: How God Uses Dreams and Disasters to Accomplish the Impossible is now out and about, and it's available everywhere books are sold!
Affiliate link included.